Disclosure: This post is sponsored by Lunchbox but all opinions are 100% my own.
There are so many momentous firsts to experience as a child, from learning how to tie their shoes, to their very first spin on the carousel to the very first time they learn how to ride a bike. As parents we always want our kids to experience and learn the things we never had the opportunity to, and for me those two top things are to swim and to learn how to pedal their own bike. I've nearly reached my mid 30's and embarrassingly I can't ride a bike for my life and I promised myself that my kids would learn all those childhood milestones just like their dad had. Like with learning anything new, our goal was to teach him good bike safety and ensure that he was having fun while learning. We really wanted him to enjoy his first experience and believed the features of the Schwinn SmartStart bike would make him feel comfortable and confident!
Toys"R"Us has the largest selection of 16" bikes for kids, so it was a no brainer to purchase a bike there, and what's even better is you can most likely catch a sale like we had, on different
occasions
we saw the bike priced at 15 - 20% off. The Schwinn Burnout 16 Inch bike is a great choice to get a new rider started on their cycling journey. Not only does it come with cool colors and graphics, but it has hidden benefits that will make it easier for little bodies to pedal and ride. Each SmartStart bike is built with a child's proportions in mind. The grips are smaller, the pedals are closer together, and the seat is angled in such a way that the body is positioned to make pedaling less stressful. If your child is more comfortable, then they will want to ride, and learning will be less frustrating for everyone involved. Plus, it is backed with a limited lifetime warranty for as long as you own the bike, and Schwinn has been building great kids bikes since 1895.
As soon as our 5 year old caught a glimpse of his new SmartStart bike from Schwinn, his eyes lit up and he quickly grabbed his whimsical under the sea themed helmet and jumped up in down in anticipation of riding. You could see his one dimple beaming as he smiled widely and giggled, it was such an awesome moment. My lil' monster hopped right on, we clipped on his helmet and he couldn't wait to get started, and asked for a little push just to get the pedals moving. Having never rode a bike we started him off with the training wheels on and he was off. What's so wonderful about this light weight bike is that, while riding he seemed well balanced on it there were no wobbly movements as he maneuvered it around the yard and I wasn't overly concerned for his safety.
16" wheels are a standard learn to ride size.
Tristan has always been on the smaller side for his age, so having smaller grips to fit his smaller hands were a plus.
If you've been considering purchasing a bike for your little one for the first time here are a few tips you should keep in mind: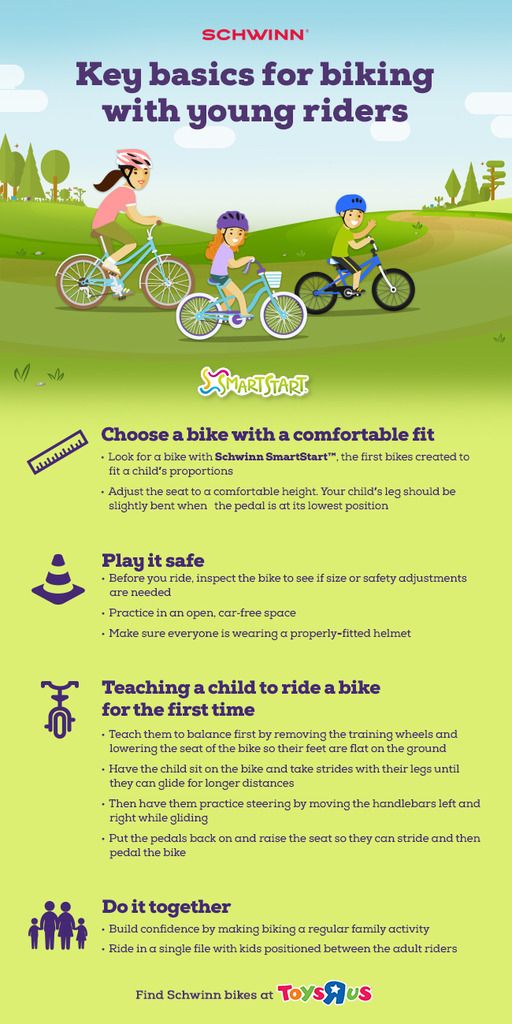 Watch the video below for more useful tips
We truly believe all children should have the opportunity to learn how to ride a bike, as it's a fun way for them to stay active and family rides promote outdoor quality time for everyone. Thanks to Schwinn you have a chance to enter to win a prize pack for your family to enjoy.
Schwinn SmartStart Family Ride Sweepstakes